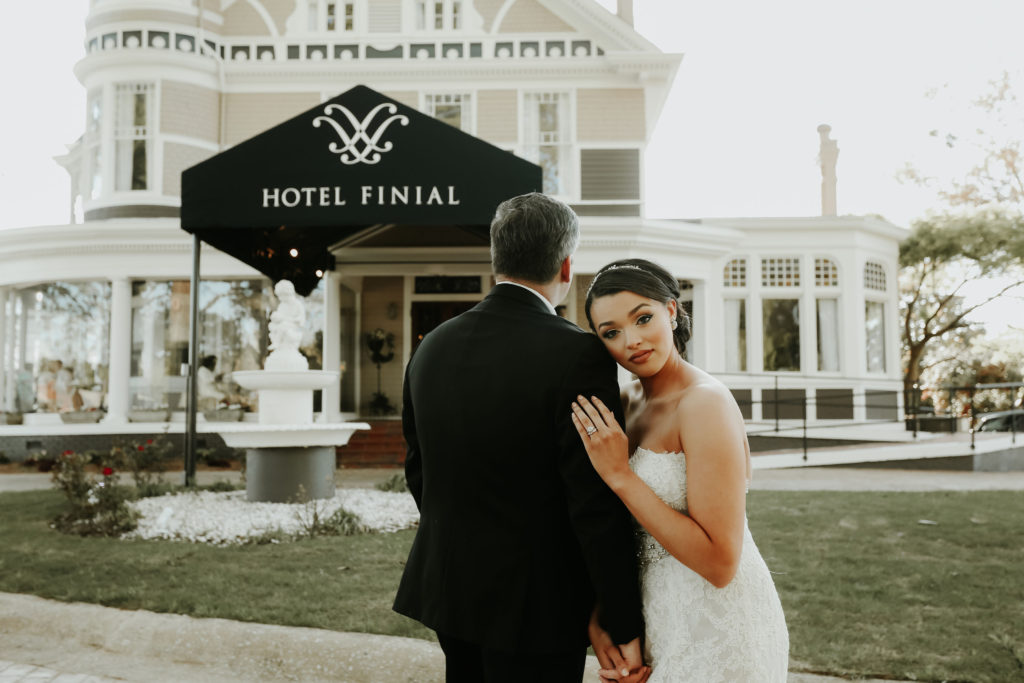 Featured Vendor: Hotel Finial
Stepping through the double doors of Hotel Finial you find rich wood molding and original details that have been preserved since the mansion's origin in 1888. Tastefully ornate fireplaces in every room inspire you to dream of the parties and people that have been where you are now. The thought of decades of memories and moments captured here invites you to add a memory of your own to this historic home turned hotel. Your wedding could be next.
Every bride deserves her special day, and that is what she will find at the award-winning Hotel Finial located at 1600 Quintard Avenue, Anniston. Hotel Finial has been named the Best Small Hotel in the state of Alabama by HotelsCombined out of Australia and Europe, and it's received the TripAdvisor Award of Excellence, AAA Diamond Award, and the Calhoun County Beautification Award.
Owners Del and Ginger Marsh renovated and reopened the iconic hotel in 2016 after pouring their hearts into the property. From original hardwood floors to custom hand-made bed frames, Hotel Finial has become one of the most desired spaces in Alabama for brides both locally and worldwide.
Ginger says, "Hotel Finial is unique as a wedding venue in that it is a hotel." With 61 rooms and five specialty suites, Hotel Finial offers a one-of-a-kind experience for brides and their guests.
"We have brides who rent the whole hotel for their weddings," Ginger continues. Other brides opt to host their reception at Hotel Finial after either a traditional church service or a rustic outdoor ceremony.
The option to rent the hotel in its entirety provides the opportunity to take full advantage of all that Hotel Finial has to offer. You will have the freedom to use every space in and on the grounds including the mansion, courtyard, pool, gazebo, cottage, Carriage House, Spencer's Bar, five specialty suites, and more.
Hotel Finial offers lodging for the bride and groom as well as family and friends for an entire wedding weekend. Three of the specialty suits in the mansion are named after former owners of the property: The McKleroy, The Kirby, and The WIlson. The Grand Ballroom, housed on the third floor of the main house, is a beautiful 900-square-foot oasis for a bride and her bridesmaids. The Cottage, located poolside, is a great spot for a groom and his groomsmen to hang on the day of the wedding.
As a bride at Hotel Finial, Ginger along with Patsy McKinney will serve as your wedding planners supporting you to craft every detail of your dream wedding. From linens and florals to tents and cakes, you can build a wedding package that suits your needs.
For weddings of 50 to 75 guests, the Seasonal Wedding Package is available and includes use of the grounds and a two hour reception. This package also covers tables and chairs as well as linens, china,
Hors d'oeuvres, and a three-tier wedding cake.
Ginger and Patsy have hosted weddings of all sizes, from intimate "Just Us" elopements to grand events for hundreds of guests. "It's their day," Ginger says. "We get to know our brides and grooms, but especially the bride, and we love for them to feel comfortable."
"Del and I have always wanted our staff and everything to be a family. So we strive to work well together," Ginger continues. "I think that kind of transcends in weddings too… We get sweet notes from a lot of brides. It's always sweet to know that we made their day and to know that we gave them just what they wanted."
Ginger says that many couples return to Hotel Finial for their anniversaries, and she enjoys keeping up with them. "We've had two babies born that I know of – about to be three – from weddings here," GInger laughs.
In addition to weddings, Hotel Finial is the ideal spot for bridal luncheons, showers, teas, vow renewals, and business or corporate events.