Industry Spotlight: Barb's Cakes
Award winning cake designer and confectionery artist, Barb Sullivan, owner of Barb's Cakes, truly has a passion for creating the wedding cake of your dreams, and she brings 30 years of experience to the table.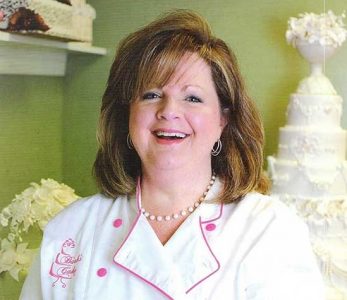 Barb is a member of the International Cake Exploration Society (a worldwide organization dedicated to excellence in confectionery arts) where she has learned new techniques from cake artists all over the world. She has been a featured demonstrator for local television morning shows and community organizations, as well as practiced her craft and taught in Europe. Barb's work has been recognized in many bridal magazines as well as in international cake magazines.
She was a competitor on TLC's Ultimate Cake Off and featured on the series, Bama Glama on Food Network. Her customers range from the local bride to well-known National celebrities.
While COVID-19 fills the wedding world with uncertainty, there is one thing certain, Barb knows her cakes. Barb and her husband, Cliff sat down with one of our writers to talk about 2020 cake trends and how the Coronavirus pandemic is affecting the wedding business.
Wedding Belles: Can you tell us some of the 2020 Cake Trends that you are starting to see?
Barb Sullivan: Naked cakes have had their time but us southerners love our buttercream too much to choose a naked cake! Right now, brides are favoring marbled designs with fondant – watercolor painting on buttercream or pallet knife painting – textures or completely smooth icing – sugarpaste or gumpaste flowers like peonies, magnolias, cherry blossoms, and unique roses – gold embellishments in either fondant or iced in buttercream. I am seeing brides request ribbons – whether it's silk, satin, or in sugarpaste. And in the South, monograms never go out of style.
Some brides come in totally against fondant designs because they think they don't like the taste of it. Fondant really gets a bad reputation. I use a top of the line white chocolate fondant that is actually very good.
With Groom's Cakes- anything goes! These cakes tend to be more personable. I've made everything from hobbies, favorite teams, to the whole Bryant-Denny Stadium. Some grooms aren't a big fan of cake and prefer some sort of dessert table – whether its banana pudding, chocolate covered strawberries, or donuts.
WB: What flavors of cake are brides leaning towards these days?
BS: In the past we would get brides wanting flavors like vanilla, strawberry, or red velvet. I've had some requests for lemon, blueberry, or lavender. My signature flavor is French Vanilla with just a hint of almond and it is always a favorite here. One way we can incorporate multiple flavors is by choosing a half and half option. It's not half of the cake is one flavor and the other half is another flavor – instead we layer two different flavors with buttercream between each layer.
WB: How do you price your cakes?
BS: It's hard to say. We price by design. Generally, it is around $4 a slice but it can go up from there depending on details and all the extras.
One important thing to remember when budgeting for the wedding cake is to get your estimated guest count and subtract 20 percent. The truth is, that not every guest is going to have a piece of cake. We have a way to work with your budget to create the amazing wedding cake that you are hoping for. We do consultations and tasting by appointment only and we don't charge for them. There are extra fees that brides do need to keep in mind: things like cake stand rentals, fresh flowers, delivery fees, tax, and time for a room flip can add to the final costs. When you book with me, you get the 6 inch top tier as a free gift to save for your one year anniversary.
WB: How far out should a bride book their wedding cake?
BS: At least 6-12 months out. Once you decide who you want to use, book and pay deposit.
This will reserve your date. The longer you wait, the stronger the chance becomes that someone else will get that spot. You have up to two weeks before your wedding to change the count and tweak the design.
WB: Tell us what is something that brides tend to forget when planning their "Big Day"?
BS: Cake Knives! Most couples choose to do a photo op as they cut the wedding cake but so many brides forget all about having a utensil there. You can use a heirloom cake knife or some couples prefer to purchase one and have it monogrammed. It's just something important that brides tend to forget.
CS: Brides who plan outdoor weddings seem to forget that it may be hot and humid on their wedding day. Keep in mind: Cakes will be set up before-hand and cakes melt. There is also no way to shield the wedding cake from every bug that flies by.
WB: What is your favorite cake design right now?
BS: I love it all! Each cake is a work of art. Whether I'm adding sugar paste flowers or piping, its just fun to see the creativity of the finished product.
WB: COVID-19 is really affecting those planning weddings right now. How has it affected Barb's Cakes and how are you coping?
BS: Well, we are praying like crazy. I have a good reputation with area wedding planners and vendors and we are busy transferring payments for brides who have chosen new dates. All of us in the wedding service industry, we are all working together to serve the bride. Because of social distancing, I am happy to offer FaceTime consultations with couples and to deliver tasting samples. As brides are forced to postpone their wedding, there is no date I won't take! I'll figure out a way to make it work. My advice to brides planning a wedding during this time is to plan ahead and don't stress.
Barb's Cakes is located in Alabaster, Alabama. You can visit BarbsCakesLLC.com for more information and check out her cake creations on social media.