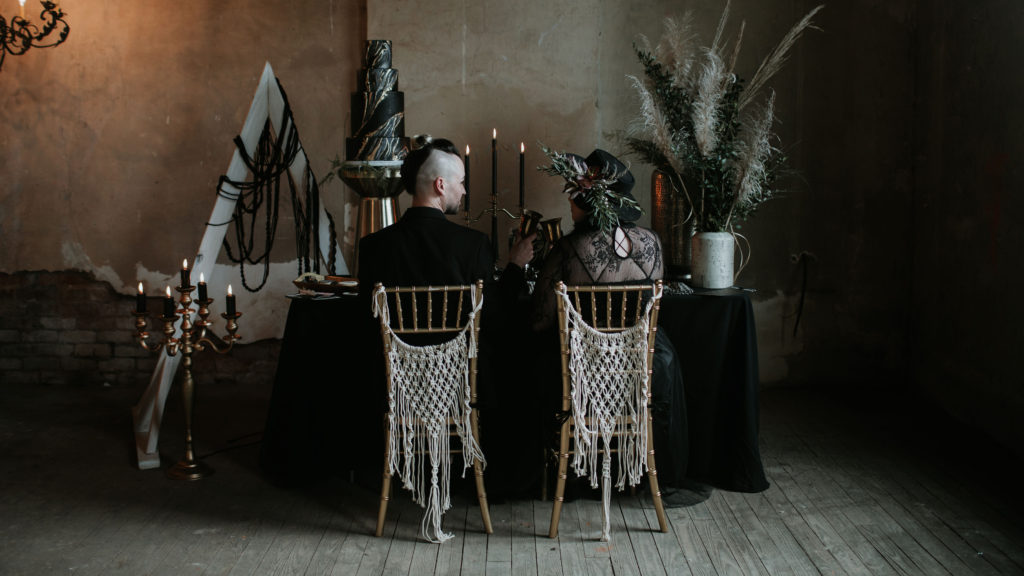 The inspiration behind this event came from a place of enduring love, a story of a perpetual friendship. My goal with styling any event is to create an experience, an overall mood, not just a cool photo or set up. When an experience is created so is a long lasting memory. So when my wife and I were asked to stand in as the bride and groom for the shoot, I knew that I had a desire to portray. A desire that would give brides to be a visual representation of a man and women becoming husband and wife.
The location picked gave the perfect canvas to create a unique boho hide away in the shadows of an abandon loft, with an effortless feel of a secret place. A secret place for two people to fall in love all over again. Our floral selection was meant to give a natural, untamed feel. Pampas grass and dried proteas paired together as an excellent base for an imagery of an intimate desert elopement. As if you and the love of your life took an adventurous stroll in your best attire and fashioned a bouquet from elements of the wilderness.
I feel like an experience must be created around a couples over all vibe for a wedding day. In that I stayed true to who my wife and I are. Allowing our energy to be a light in the shadows of that hideaway and let the love we share tell it's story.
─ Weston Gray
Event Coordinator: Karla Eden & Weston Gray
Event Rentals:

Top Notch

Photography: S.Weathington Photography
Florist: A Southern Wedding Flower
Invitations: The Invitation Loft
Cake and Cookies:

Sugar + Stems

Videography: Harbison Creative Media
Styling and Accessories:

WESTONGRAY

MUA: Hannah Key / Estee Lauder
Clothing & Decor:

Dillard's

Suit: Perry Ellis (available at Dilliard's)
Brown Boots:

ALDO

Black Boots:

Kenneth Cole

Earrings: WESTONGRAY
Place Setting: Southern Living (available at Dilliard's)
Home Decor: Southern Living (available at Dilliard's)
Heels: Arturo Chiang
Hat: Vinatge Find
Macrame: Ashley Gray
Special Thanks to: Brian Kilgore for building usage in Historic Downtown Anniston.