While Spring has come and this weather has me longing for sandy shores, sunshine, and my (hopeful) summer plans, the Covid-19 Pandemic has me practicing "social distancing" and feeling a little blue. We lost softball season (we were looking forward to late nights and early mornings cheering two of our daughters on from the stands). My kids are at home and some days are filled with what seems like non-stop bickering. And it seems as though my husband is never (slightly dramatic here) at home because he's working longer hours these days.
But you know what, I'm kind of loving it. Not the not having my husband home part, but the finding peace and refuge in my home. You see, we're safe, we're healthy, and we're happy. We've been having a lot of fun. Playing our own version of softball and throwing the frisbee. Spending hours outside, followed by a homecooked meal and movies with the family piled up on the couch. Just this morning, my husband and myself discussed how "simple" life is right now and how even once life returns to normal, maybe we want to keep a few of these adjustments we've made while social distancing.
I can't lie though. I feel a twinge of selfishness as I think "I wish things were open", "I wish I could plan my vacation already", "I wish I could go to the beach soon". I still miss the normalcy of life before this pandemic and since I don't know when I will be able to do that… Cake Me Away.
That's right. Let's talk CAKE! We are, after all, in the bridal business. Brides = Weddings and Weddings = Cake!
While it can be both exciting and stressful for the bride to choose the most perfect dress, pick the prettiest flower arrangements, and decide on a theme and decorations; there is one aspect of planning a wedding that should be fun and delicious: Choosing a wedding cake! This is a part of the wedding planning that the bride and the groom can really sink their teeth into (pun intended)! But all silliness aside, choosing a wedding cake can be overwhelming if you aren't sure what to expect!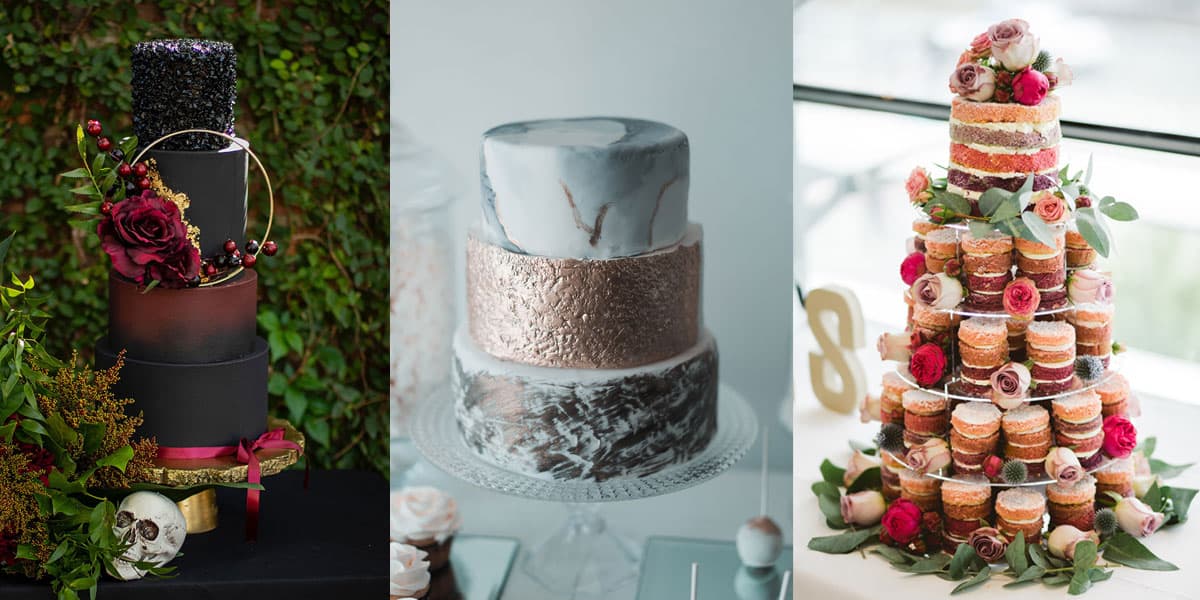 Writer, Kim McNeely interviewed several pastry chefs and cake artists to see what seems to be trending among 2020 couples in the South. Here is what she has to say…
Naked and Semi-Naked Wedding Cakes
Naked and Semi- Naked wedding cakes rose to popularity in 2013, and are still going strong seven years later. As more bakers began offering this trend, the style has been refined and elevated to a look that deserves a place on your wedding dessert table. If you are fan of the rustic vibe, this beautiful bare dessert is a great option. Add fresh flowers, fresh fruit, sugar flowers, or greenery to achieve a look that reflects your wedding style.
Contemporary Wedding Cakes
In stark comparison to the naked wedding cakes, some creative couples are gravitating towards wedding cakes that make a statement. These contemporary cakes are all about the clean lines and innovative design. With geometric details, moody dark colors, metallic flourishes, acrylic decor, these cakes are truly modern masterpieces.

Textured Wedding Cakes
For bride who prefer the more understated things in life, consider the trend of adding a little texture to your cake. Textured wedding cakes can range from carving a pattern of delicate lace to layering thick swatches of buttercream. From rustic to classic options, this trend shows us that your wedding cake can be subtle and still stand out.

Watercolor and Painted Wedding Cakes
Watercolor and painted wedding cakes are very on trend right now and it is easy to see why! Decorated with beautiful brushstrokes in all colors and shades- from pastel to bright and bold, these are truly edible works of art. Whether you choose a design of floral, marble, or abstract, these hand-painted designs are (almost) too beautiful to eat!

All White Wedding Cakes
You know they say "A Classic never goes out of style." That is especially true of an all white wedding cake. An entirely white cake can be a nod to tradition but is can also reflect your modern tastes by incorporating other 2020 trends. By adding sugar flowers, geometric details, texture, or an unusual flavor, this classic trend is anything but boring!
Alternatively, if you're not a fan of the traditional wedding cake, there are still plenty of options for your dessert table! Try a doughnut tower, pancake stack, macaroon cake, cupcake tower, cake pops… the list goes on. This option gives you the same wow factor you'd get with a wedding cake but also gives you the freedom to do something that feels true to you.
Choosing the perfect wedding cake isn't as easy as it seems but following a few tips below it can be the best and most delicious part of the wedding planning experience.
Research cake trends, styles, designs, and bakers. Check the baker's websites, portfolio, and social media posts. Read their reviews.
Set a budget. The average wedding cake for 150-200 guest typically will start at a minimum of $3.00 per serving so plan accordingly. All of the details can add up. Remember to ask about additional costs such as delivery fee, cake stand rentals, and cutting fees.
Plan your tasting and consultation at least 6 months out. Make a decision and book immediately if possible. Popular dates book quickly and sometimes a nine months to a year in advance.
Listen to your pastry chef. If you they tell you something won't work or won't look good, trust them. But don't forget to stay true to YOU! If theirs is something that you have to have, ask your baker what an option is that will work and still create the cake of your dreams. It's your BIG day. Pick a cake that celebrates that, reflects your personal style, and makes you happy.
Now, all that talk of cake has me craving something sweet. I think I will head to the kitchen to see what I can find that will "cake me away".