The Spring wedding season of 2020 is one we aren't soon to forget. In the midst of a world pandemic and social distancing, Brides across the globe are choosing to postpone or change their wedding plans that they have dreamt of for several months, if not more.
While many couples are working closely with their venue and vendors to reschedule their wedding plans, there are many others that have decided against letting COVID-19 stand in the way of their wedding day. Certainly, a large percentage of their original plans have changed but many of our couples are opting for a more intimate, elopement style wedding.
As an elopement bride myself, I want to share with you a few thoughts on how to get the most out of this type of ceremony. Elopements are smaller and more intimate than your typical wedding, but there are still so many details you can include to optimize this experience. If you are considering an elopement ceremony, remember that this IS your wedding day. The day you will say your vows and commit your love and lives to one another. You deserve to have a day that is true to yourselves and customized to you as a couple.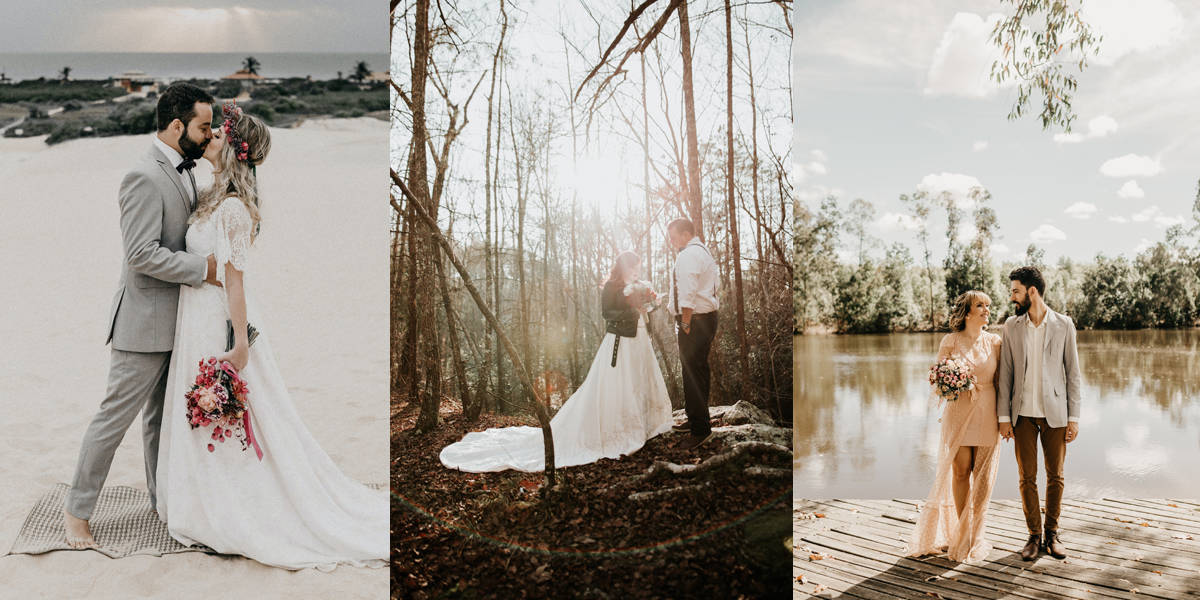 Let's take a look at a few things to consider:
Bride's Dress: You deserve to feel BEAUTIFUL on your wedding day! Elopements ceremonies are so versatile. Whether you go casual or full bridal, opt for what you feel best represents you. My husband wanted to see me in a true bridal gown… train and all. He bought (yes, he – remember this is your wedding, your elopement – you make the rules, anything goes) a beautiful ivory gown with embroidered and embellished details, that I then paired with my black leather jacket. It was true to me and I wouldn't have had it any other way.
Groom's Outfit: Alright fellas, you couldn't have it much easier. Whether you are dressed up or dressed down, consider the details. Look for personal touches that will create an opportunity for detailed shots. Suspenders, crazy socks, a cool bowtie, a special watch. It may seem like a small detail, but look for something that represents you and your style.
While we are on the "what to wear" subject, don't forget the shoes. Depending on where your elopement ceremony is, it may be best to wear comfortable, sturdy shoes to get to your destination and then changing upon arrival. Really, the same goes for your clothes. If you are hiking to a waterfall or into the woods, it would be best to plan accordingly. My elopement ceremony was held in the mountains (in late December). It was a bit of a walk and it was cold. I got dressed at the end of the hiking trail, and wore leggings and tennis shoes under my dress.
Hair and Makeup: I understand that your options are possibly limited at this time with salons being closed. If there isn't a hair stylist or makeup artist available to do your hair and makeup, there are so many tutorials on YouTube and Pinterest. Try a few different hairstyles and makeup looks for yourself. Still not feeling confident that you can do it on your own? Reach out to your favorite beauty professional, show them pictures of what you want, and ask for guidance and tips on how to recreate it yourself. I'm certain that they will understand and be willing to help you the best they can.
Photography and Videography: I really feel as though this is one the most important vendors to consider. In the end, you are left with your memories and your pictures. Choose a photographer whose style you love, someone you enjoy being around, and who you trust to give you the results you desire.
Videography – isn't as common with an elopement style ceremony, however it can be one of the best additions to the day. Consider this, what better way to include your family and friends that couldn't attend the ceremony than by providing them with a way of seeing your special day. And, like photography, the video remains and preserves the memories.
Florals: At the time of my elopement ceremony, I didn't have any florists that I considered personal friends, and honestly the bouquet came as an afterthought. I managed to pull off a bouquet and boutonniere by stopping by the floral department in Publix and the ribbon section of Hobby Lobby on our way to meet the photographers, but this is one aspect that I wish I had given more thought to.
Bouquets add a truly beautiful element to any wedding ceremony and is a great way to add another personal touch to your elopement. You can go small and simple or large and breathtaking. A boutonniere for the groom can really pull his look together. Contact your favorite florist to discuss the endless options available.
Decor: Likely one of the most underutilized options for an elopement ceremony. Granted, if you are getting married by a waterfall, your need for decorations is pretty minimal. The benefit of an elopement ceremony is that most of them take place with naturally beautiful backdrops. However, you can always add a personal touch. Whether it's a cool chair, a bohemian rug, candles, or a beautiful arch, there are decorative elements you can consider including.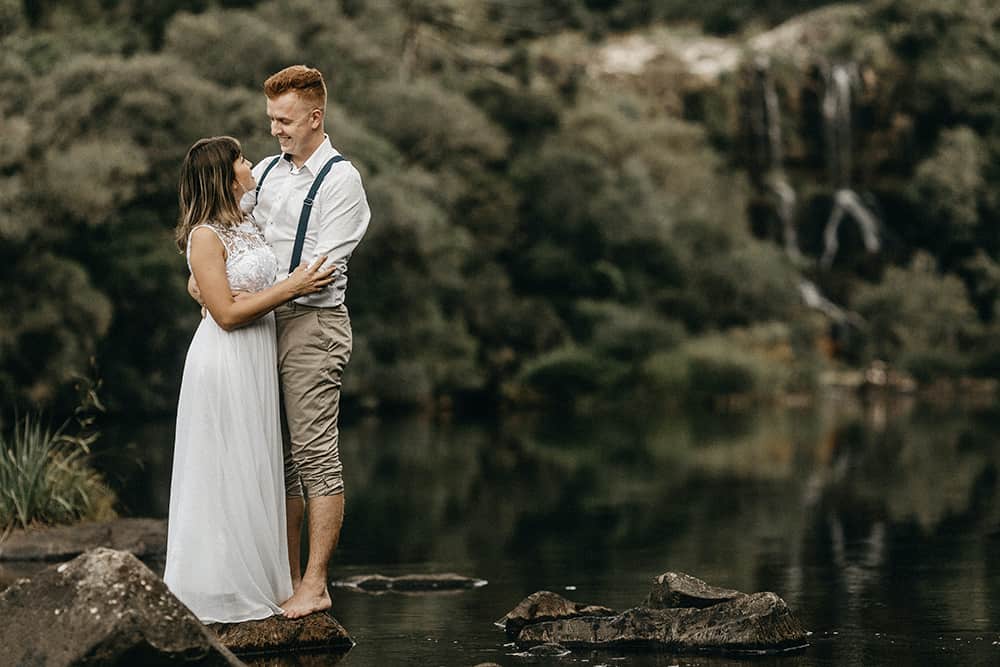 Officiant and Vows: Under Alabama law, marriage licenses are a thing of the past. Couples now fill out a marriage certificate and once notarized, they are legally married. Therefore, the officiant isn't necessary but may be symbolic to you. It is your own personal preference. My husband and I wanted our Pastor to officiate our elopement/vow renewal but it was during the Holidays and he was out of town with his family (as were every other close friend/officiant that we reached out to). So we wrote our vows to one another and opted against having an officiant in attendance. If you have an officiant, make sure you keep him or her in the loop about whether you will write your own vows or will recite traditional vows.
Family, friends, and witnesses: Ah, the big one, ay? You've most likely already planned your guest list and have hundreds of your closest family and friends slotted to attend your special day. How do you now decide who can attend and who can not? I don't guess there is a true answer to this. It is likely the most difficult part of choosing an elopement ceremony. We understand that by eloping, you are not trying to leave people out, but are looking for an intimate experience that is about you and your soon to be spouse. You are marrying this man or woman, not your family and friends. The ceremony is about your love for one another. Do what you feel is best for the two of you, the others should understand.
Options to include family and friends: Streaming your elopement ceremony live, having a videographer present to capture the day and share with family and friends later, hosting a public wedding, a reception or party at a later date (we will get into that further down).
Rings: This really goes without saying, but don't forget your rings.
Music: This is completely optional, but is there a song that is special to you as a couple? Include it. Whether you play it in the background as you have an intimate moment as Husband and Wife or use it to have a first dance together, there are no rules that say you can't have music at an elopement ceremony. Personally, I don't remember having any music EXCEPT one very special song. An incredibly talented friend of ours, played the guitar and sang a song that was special to my husband and myself. My only wish is that someone had recorded it. (Yet another reminder of how important a videographer could be).
Champagne and Cake: Did you reschedule your wedding celebration and therefore your cake to a later date, but still want to include it for pictures on your actual wedding day? Ask your baker if they can make a smaller version of your wedding cake. You don't have to have a cake for your elopement ceremony, but again, there's nothing that says you can't. In this situation, I feel like it's just another detail you can include to feel like you're getting the full wedding experience. I do want to remind you, if you do go for the cake, make sure you can safely get it to your ceremony site and that you've considered the proper setting/decorations of where you will stage it.
Champagne toasts (or whatever your preference may be) is another fun element you can include that will make for great pictures and fun memories.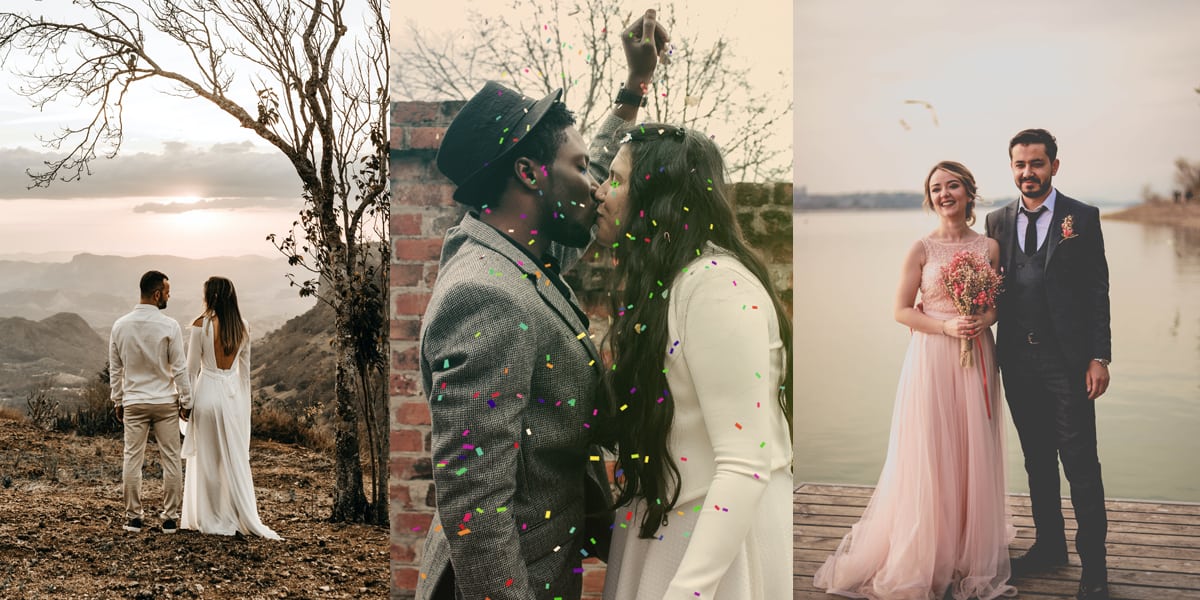 After the Elopement
So you've exchanged your vows and are ready to announce your union as husband and wife, what now?
Wedding Announcements: Many couples choose to send out wedding announcements and we've seen some super cute ideas floating around Pinterest. This is a great way to let your family and friends know that you were still thinking of them on your special day.
Wedding, Reception, Dinner, or BBQ: Yes, this will have to wait a few months or till it is safe and acceptable to have a large celebration, but this option allows family and friends to be included in celebrating your love and marriage. Whether you have another wedding, a formal dinner, a Happily Ever After Party, or an I Do BBQ, we highly encourage having a celebration afterwards.
Honeymoon: Whether you can travel at this time or not, I'm hearing that travel fares and destination resort prices are at an all time low. Take advantage of this special pricing and plan a trip for your one year anniversary.
I dreamt of my wedding day. I knew exactly what I wanted. Late December, flocked trees, a snowy aisle, snowflakes and twinkling lights, hot cocoa and coffee, hearty soups and comfort food, cozy blankets by the fireside. At the end of the day, I didn't have the wedding I thought I would… but it was absolutely perfect to me. When I look at my wedding pictures, I don't think of everything the day was not. The Wipplers Photo Co did an extraordinary job at capturing everything the day was. The pure happiness and love I felt in my heart, clearly shows in every single picture from the day.
I never dreamt of an elopement ceremony and maybe you haven't either. After all, elopement weddings aren't for everyone, but they just might be for you.