Congratulations! You said "Yes" to saying "I do". You've gushed to your family and friends, you've likely shared it with your social media followers, and you are eager to start planning a wedding you will never forget. – Or… maybe you're not. We get it! While being a bride to be is one of the most exhilarating times you will experience, it can also be stressful and overwhelming.
We are here for you. Let us ease your mind and get you started on the wedding planning process. Here are the top tips from our editor.
First, soak it all in. Celebrate this joyous occasion. Whether you have an engagement party or simply celebrate on your own, you are now a Bride to Be, take the time to relish in this moment. Dream about your future as a wife. Admire your ring. Appreciate the man that has asked for your hand in marriage. And get a vision. Start a Pinterest board, read all the blogs, flip through all the bridal magazines. – Eh hem… Wedding Belles is a personal favorite. – Visualize what a dream wedding looks like to you and your fiance. What matters most about your wedding? What style wedding best reflects you as a couple? Do you want an intimate ceremony surrounded by your closest family and friends? Would you prefer a large wedding with everyone you've ever known?
That leads us to your Guest List. Get an estimate of attendance as this will quickly add factors to consider when determining your budget and your venue. If you want a small church wedding, it's likely that you can't accommodate 500 guests. Whereas if you're inviting 100 guests, you don't need a 1000 person venue.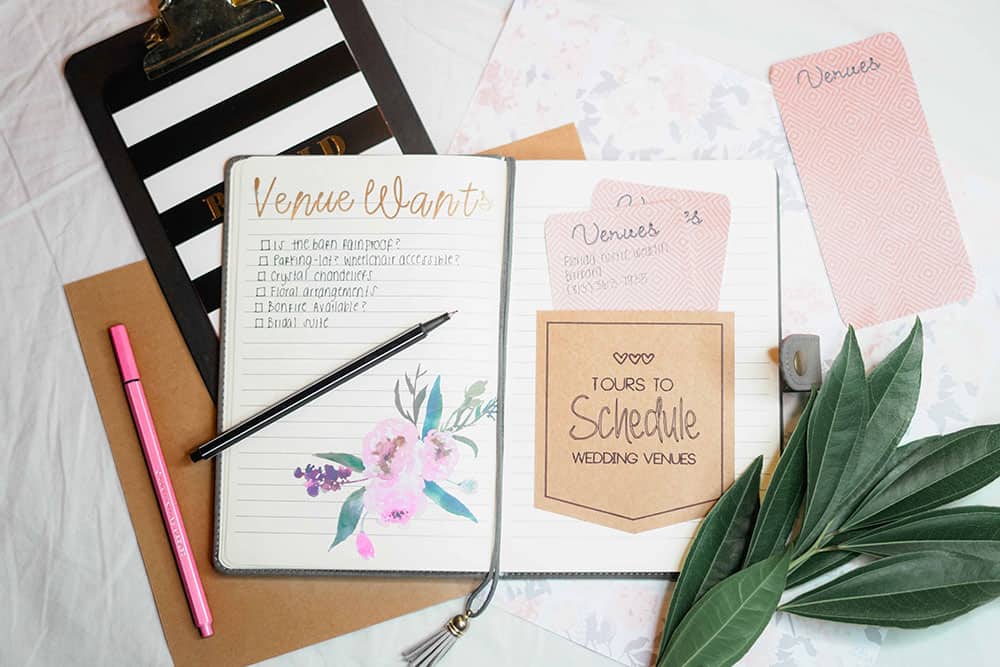 Next you should determine your budget. In the past there were expectations of who paid for what but today it is often a combination of sources. Bride and groom, parents, grandparents, maybe your favorite aunt. You need a good idea of how much money is going to be spent on your wedding. Once you have decided on a budget, I find it best to pick the top 3 most important aspects of your wedding – venue, dress, photography, reception, floral, etc – and allot a large percentage of your budget to those three items. (We will dig deeper into a budget in a future blog post).
Determine your wedding date or your venue of choice, whichever is most important to you. Some couples have their hearts set on a certain date, while others are more flexible as long as they can book the venue they desire. Book your venue and set your date or set your date and book your venue; once you do these two things the rest of the planning starts coming together.
Finally, it's time to line up your vendor team. You will want to book vendors that can only do one wedding a day first. Photographers and videographers, wedding planners, etc. From there, move on to vendors that usually need a 6-9 months' notice to assist you on your wedding day. These would be florists, caterers, wedding dress, and even some cake artists. Next on the list will be rentals, grooms attire, entertainment, bar services, etc. Lastly you will cover smaller details such as the guest book, gifts, and favors.
This looks pretty easy, and there are some details I left off such as planning your honeymoon, but this will get you started. We have more blogs coming soon and they will be loaded with all the information.
Again, Congratulations on your recent engagement and many wishes to years of love and happiness!