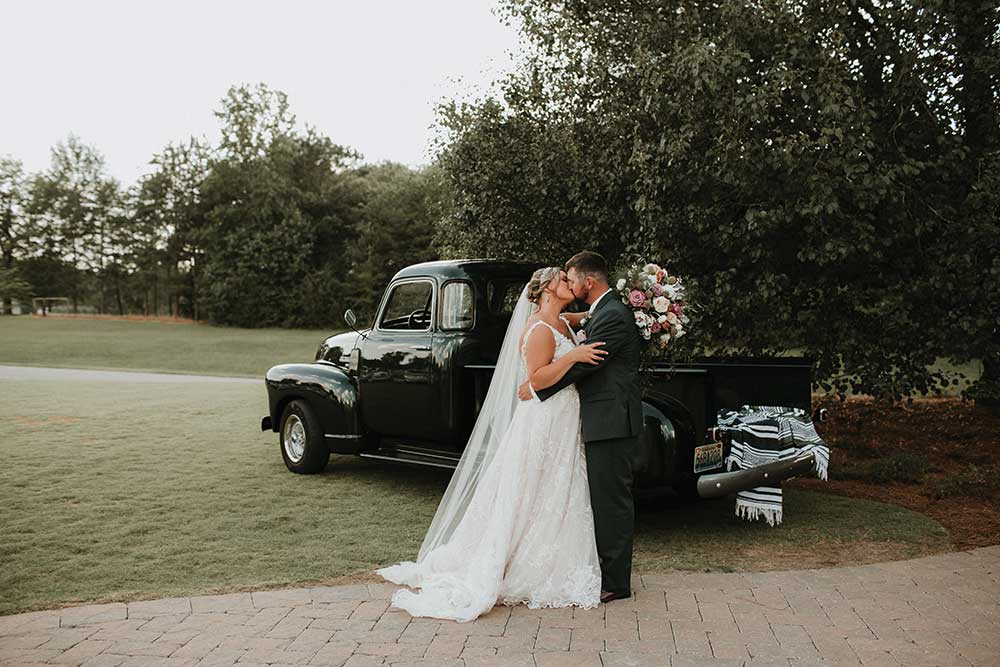 The love story for Wesley and Erin started in December of 2017, but their families have known each other for years. On a trip to Ellijay for the Apple Festival last October, Wesley proposed at Amicalola Falls. They both agreed that they didn't want a long engagement, so the planning began almost immediately after the engagement.
Choosing a date is hard enough for every couple, but when you are the son of the owner of A Southern Wedding Flower, a date is not easy to come by. With only two dates available in June, a date was selected and then the venue–The Bell House.
Erin chose a gown at Simple Elegance Bridal from the Private Label Collection.  Her bridesmaids consisted of her sister Madison Mitchell (maid of honor), Wesley's sister Kaydra Martin and her cousin Shelby McClurg.
Wesley's groomsmen were his brother-in-law Allan Martin, good friend Dylan Janney and for his best man, his dad Keith. The flower girls and ring bearer were Asher Martin, Sadie Grace McClurg and Levi McClurg.
All the plans were coming together, and a shower for the couple was set for April.  All the flowers and décor had been decided.  Then the talk of the COVID-19 virus began. The news of everything shutting down became real. Life seemed to stand still for everyone.
The wedding shower was cancelled. Getting engagement photos done was a challenge because it rained on every day the couple selected.  Finally, they got beautiful photos taken at The Barn at Bennett Flats by Susan Weathington.  Joy at The Bell House had a second wedding date pushed out further just in case everything did not open back for June.  The couple didn't get to have bachelor or bachelorette trips.  With everything happening and going wrong, Wesley and Erin were determined to get married on June 20, 2020, even if only 10 people could attend.
It was finally June, and the governor opened the state with social distancing guidelines set, so the couple's plans were back on. 
The guest list became smaller with mostly family and few friends.
On June 20, 2020, Wesley and Erin got to have their wedding under the pergola on the grounds of The Bell House with Buster (James Allan Hale) officiating. Vows were said, and rings were exchanged.  The couple braided the cross that Wesley hand-crafted to unite the beginning of their new life together.
The couple had a beautiful ceremony, a wonderful meal, dancing, an amazing sunset and made beautiful memories being with family and friends.  The evening ended with a sparkler departure, and, most importantly, Wesley and Erin got to experience their dream of getting married on June 20, 2020. 
Venue: The Bell House
Invitations: Megan Kirby-The Invitation Loft
Photographers: Susan Weathington Photography and Stefanie McGuffey Photography
Stylist: Weston Gray
Hair: JC Hair
Makeup: Hali Vinyard
Cookies: Laykn Parker
Cakes: Cheryl Jackson, Linda Gosdin, and Pat Ward
Cake Pops: Kaley McIntyre-Cofield
Gown & Attire: Simple Elegance
Jewelry: Couch's Jewelers
Video: Double Springs Media
Caterer: The Bell House Crew
Florals: A Southern Wedding Flower