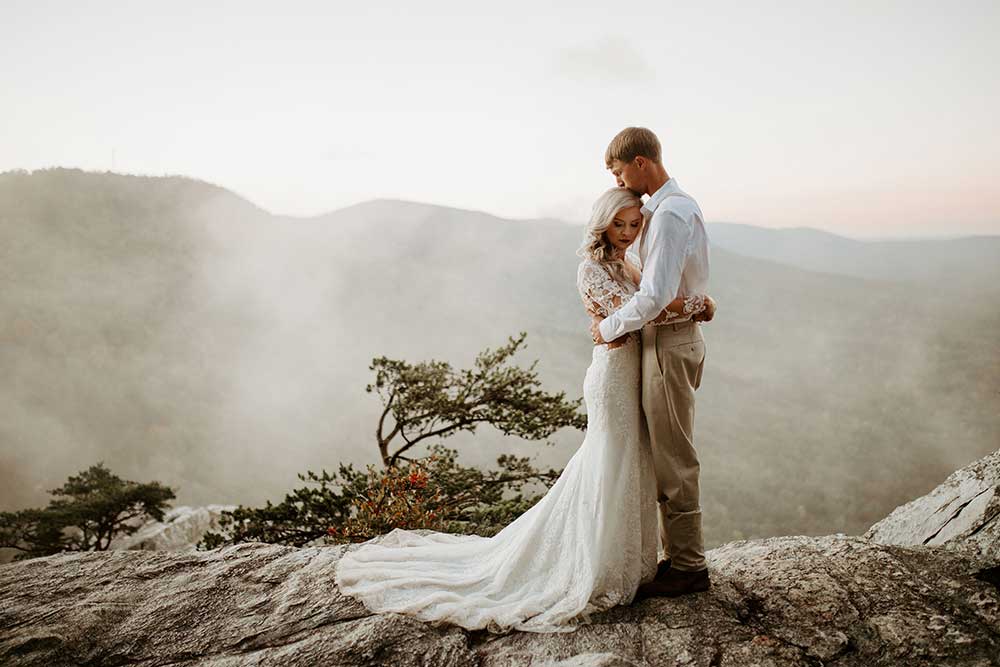 Chris and I met in 2009, and there was an instant connection. Even though we were just 14 and 15 years old at the time, I knew he would be the man I would marry one day.
Chris proposed on November 23, 2017 on an annual family Gatlinburg trip. We started the day off by having Thanksgiving with my family. Later, my mom, myself, Chris, my brother, and his now fiancé went hiking to Grotto Falls. Once we got to the waterfall, Chris got down on one knee and proposed! I was taken by total surprise; I literally had no idea! Everyone at the falls was cheering for us. We celebrated with the rest of my family when we got back to our cabin and enjoyed the rest of our trip as a newly engaged couple.
Wanting the best of the best for our wedding, I started planning right away. We decided we wanted a Fall wedding and after several phone calls, emails, and careful consideration we had all the vendors picked. We then chose our wedding party. Chris's brother in law, Craig was our officiant, which was special to us. We wanted to spend our big day surrounded by our closest family and friends.
Our wedding day was one to remember. The forecast called for wind and rain all day, not ideal for an outside wedding. Thankfully, Mountain View Farms had a backup plan in place. The rain held off long enough for us to do our ceremony (which turned out beautifully). Seeing Chris's face as I walked down the aisle is a moment I will always hold dear to my heart. One of the most special moments was when we exchanged vows. We decided to write our own and once we were done, I don't think there was a dry eye in the room.
After the ceremony, we moved on to a buffet style dinner reception that consisted of pork, chicken, vegetables, and a mashed potato bar. We also had a Smores and Coffee bar, which was a big hit. The DJ kept the party going and it was one for the books – we had an open bar and everyone had a great time dancing until we couldn't dance anymore. We ended the night with a sparkler exit.
At the end of the night, I didn't care that it rained and we had to make last minute plans, or that my hair was frizzy and my dress was muddy, because I got to marry my very best friend and that's what mattered the most.
We also did an adventure session with Natalie and Evan (our photographer and videographer) on Cheaha Mountain. It was one of my most favorite aspects of our wedding. We did it at sunrise and it was 29 degrees that morning. I wore leggings and hiking boots under my wedding dress. It is something I will always remember because that sunrise was literally jaw-dropping, and we have some amazing pictures because of God's magic that morning.
To celebrate our marriage, we enjoyed an all-inclusive week long honeymoon to Ochio Rios, Jamaica at Sandals Resort.
Venue: Mountain View Farms
Photographer: The Wipplers Photo Co
Videographer: Livemore
Florist: Petals of Serenity
Invitations: The Invitation Loft
DJ: Good Times Entertainment
Hair: Cameron Mace Knight & Amy Lindsey Smith
Makeup: Blaklie Nichols Straub & Briana Lynch
Catering: Audrey Odom
Bartender: Pour Crazy Bartending
Bridal Gown: Bella Couture
Tuxedos: Chloe's Formals
Bridesmaids Dresses: David's Bridal
Ring: Diamonds Direct