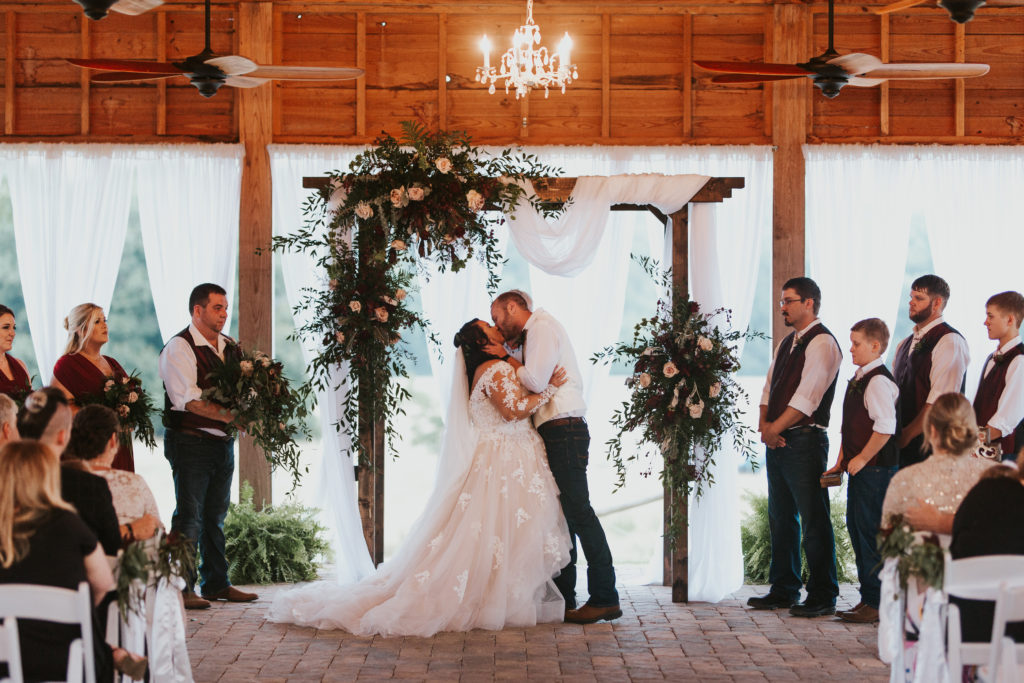 The story of Alexa and Justin started long before they met.
Both being strong in their faith, they had prayed many prayers that the Lord would send the right person into their lives. Though unconventional to some, it seems to fit perfectly in this day and time that one Facebook message answered all of those prayers. Despite being a man of few words, Justin took a leap of faith and after sending Alexa that Facebook message, the two exchanged numbers and a friendship began. Days later, the two met at Oxford Lake and sat on a bench by the water and talked for hours. It was in those hours Alexa knew that Justin Pate would be the one she would marry.
They spent the next few months getting to know each other through many adventures. They went to many concerts, sailed the sea on Justin's first cruise, and even bought a house! On a seemingly normal Sunday evening in September, fifteen months later, Justin took Alexa to that same park bench beside the water at Oxford Lake and asked her to spend the rest of her life with him.
Two months later, they set the date of June 16 th, 2018 to exchange vows and begin their life together. In those eight months, they planned the fairy-tale wedding Alexa had always dreamed of.
Their wedding took place at the Bell House Bed & Breakfast in Heflin, Alabama that offered the perfect setting for their outdoor ceremony. The bride's love for DIY projects helped create special and unique touches that set their day apart. The decorating expertise of the bride's brother, Weston Gray, truly made all of her fairy-tale wedding dreams come true. From the bride's beautiful lace-sleeved dress, to the perfectly chosen flowers and a magazine-worthy cake, there's not one single thing they would change about their special day. Although a wedding day can be a stressful event, the peace that filled Alexa and Justin was confirmation that they were, in fact, the ones the Lord had made for one another.
After the perfect wedding, their families gave them the perfect honeymoon with a week-long all-inclusive trip to Montego Bay, Jamaica at Sandal's Resort. This will definitely be a time in their lives they will never forget.
Venue: Bell House Bed & Breakfast

 

Photographer: The Wippler Photo Co.
Videographer: Livemore
Event Stylist: Weston Gray

 

Florist: A Southern Wedding Flower

 

Cake: Taste Of Eden
Makeup Artist: Briana Lynch

 

Hair Stylist: Jenna Quinn

 

Dress: Diane's Formal Affair

 

Jewelry: Weston Gray