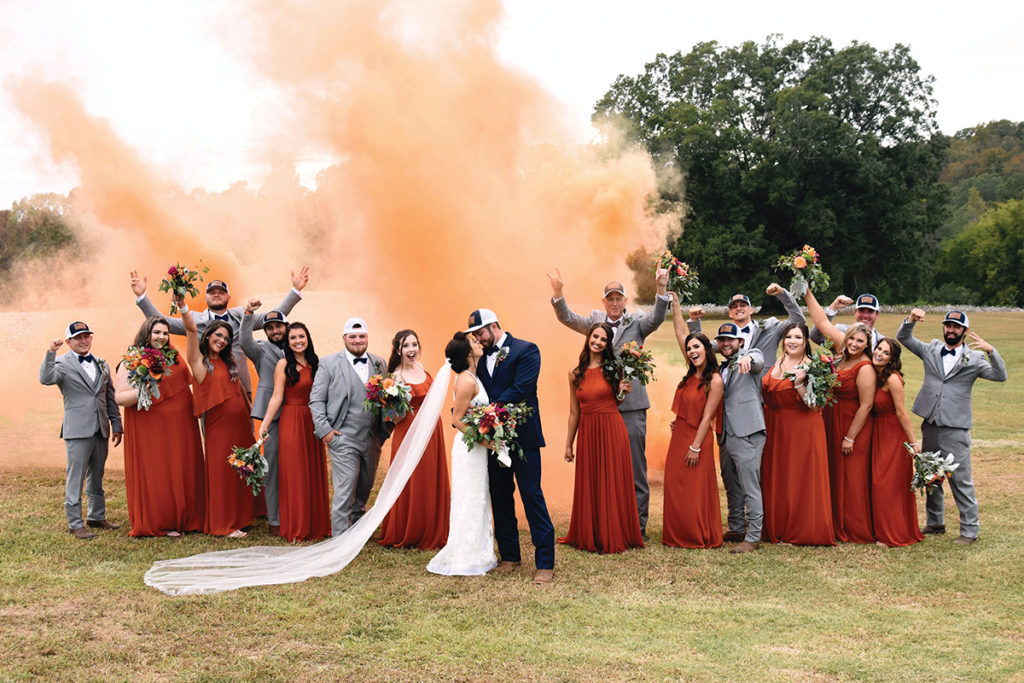 From the Father of the Bride
Fate has a way of always getting what it wants, but I think there is much more to be said about a great Christian family with a strong faith and prayer life. I know, as the Father of the Bride, that Jordan (Jojo) Borrelli knew God would send her the right person at the right time. Her faith was strong. Her mother and I spent many nights talking about it, as she stayed at home with us as a teenager most every weekend. As parents we wanted her to have a social life, and she did through her friends, but she would continually decline offers to date; saying, "It's ok dad, I'll know when the right one ask". There is a country song by Matt Stell that reminds me of her strong will to be content and pray for the right man. On October 12, 2019 those lyrics danced in my head as I watched them say their wedding vows.
"Every single day, before I knew your name, I couldn't see your face, but I prayed for you. I kept my faith like that old King James said I'm supposed to. It's hard to imagine, bigger than I could fathom I didn't know you from Adam but I prayed for you".
Jordan Moore was the right man. JoJo's brother, Keaton, and Jordan Moore became great friends and began going to the gym together every day. JoJo and Taylor Moore (his cousin) had been best friends for most their life. I don't think either of them had seen what the stars held as teenagers, but as their lives crossed paths again, I believe God had a plan, and Jordan Moore began to ask Keaton to set them up. Unfortunately, for Jordan Moore, Keaton continually declined saying, "Jordan, she is my sister and she isn't the type you ask out every now and then; she's the type you marry. She's not one in a million, she's one in a lifetime". I met Jordan Moore at the gym. A tall, very respectful, good-looking young man – my first thoughts. I even mentioned to her brother Keaton that maybe he would be "a good guy to ask out your sister". I knew his family and something told her mother and I that he could be the one; but Keaton said "Not yet dad, I have to make sure he knows what he is getting with JoJo. He has to see her value first".
It wasn't long before it became obvious that Jordan had reached that understanding. We all saw it as well. Finally, on December 3, 2017, Keaton asked his sister to hang out with him, his girlfriend, and Jordan. At first, she said no, as she sat in her pajamas watching TV, but with some encouragement from her mom, she made a decision that would change her life forever. As she left the house, still in her pajamas, little did she know that those many prayers were playing out in that moment. From that night on they were together as much as possible. We all knew very quickly that this was right. As parents from both sides began to talk with each other, it became obvious that fate had set its mark and that prayer really does work. There is a love sonnet that says, "Fate determines who comes into your life, but you determine who remains who goes and who you could never let leave".
On December 3, 2018, exactly one year to that first night, Jordan Moore proposed. He planned it so well and with the help of his mom (Tonya) and JoJo's mom (Bevalie), and many other friends a time was set. A simple park pergola became magical and for two great young people a new life began. Soon a wedding date was set for October 12, 2019. Over the next ten months many friends and family helped to make that grand day special for JoJo and Jordan and a great thanks goes out to all of them.
Finally, the day came; October 12th was here. The wedding took place at Mallard Oaks Farm in Talladega, Alabama and it started very early with Justice Mitchell and JoJo's Aunt (Leanne Willingham) ready at 6:30am, doing the bridesmaids' and Bride's makeup and hair. Brooke Crews and Julie Harrison were there getting memory pictures of the entire day. Videographer, Eric Bradbury, came from Georgia and was the first to arrive getting great pre-wedding footage of the occasion as it unfolded. Cindy Williams coordinated the day and also the flowers and outside decorations. Her expertise helped to create such a beautiful day with no issues. The barn facility was perfect, with a Bridal Suite, as well as an upstairs loft that allowed all of the Groom's wedding party to very comfortably watch the Alabama football game. The aroma of the night's dinner for 270 friends and family catered by Café Royale filled the air. The excitement from the rehearsal and rehearsal dinner the night before, catered by Jordan Moore's uncle and cousin, Kelly and Hayden Moore, were only growing as the 300 attendees began to arrive. White clothed tables with deer antlers and beautiful lanterns set the atmosphere for a grand wedding combination of elegance and southern living. The outdoor church pews and white chairs with white pumpkins and florescent flower arrangements were a wonderful contrast to the giant oak trees and cotton fields in the background.
As I pondered the upcoming event, I couldn't help myself but to admire my wife, Bevalie, and the groom's mother, Tonya, and to think about what a great job they had done raising their children. My sons Keaton and Tyler, as well as my grandson, Isaiah, were all there and emotions were running deep.
Seeing my daughter as a first look was something I will never forget; the smile on her face, her beautiful white gown and even the small key on her bouquet of flowers are permanently etched into my mind. Finally, the time had come and the wedding party had all been seated. I sat with her, totally alone, one last time as Jordan Borrelli, and as the first man to love her and the first man she ever loved. Soon I would give her away and she would forever be Jordan Moore. We laughed and cried as we waited to be escorted out. After a little while she said, did they forget us? We laughed and made our way out. As we approached the rear door, we both realized that we had came out at the exact time we were supposed to without knowing…
The day was overcast and as the door opened, at that exact moment, a ray of sunlight shined directly on her, and all that attended stood and gazed at my little girl. As we made our way down the aisle, Larry Moore, the grandfather of the groom, waited to officiate the wedding. The bridesmaids and groomsman (which included the Groom's father, Greg Moore) were all in place. As we moved closer, I began to watch Jordan, my future son, his eyes began to fill with tears and my daughter smiled. I thought about the cuff links she had given me that morning that said, I loved her first and I remembered her saying "It's OK dad, I'll know when the right one ask". I realized he was the right one and that I loved him as well, and that my daughter was so lucky to have so many good men in her life that loved her. That ray of sunlight disappeared again as soon as we passed all that were seated. The vows were said and a life lock was locked together with no key to ever unlock it. They were now Jordan and Jordan Moore (literally). What God has joined together, let no man put asunder.
After the wedding they had a perfect Honeymoon week in Mexico at the Dream Sands resort and spa.
"I love you without knowing how, or when, or from where. I love you simply, without problems or pride: I love you in this way because I do not know any other way of loving but this, in which there is no I or you, so intimate that your hand upon my chest is my hand, so intimate that when I fall asleep your eyes close." – Pablo Neruda  
Wedding Coordinator: Cindy Williams
Venue: Mallard Oaks Farms
Rentals: Top Notch Events & Rentals
Catering: Cafe Royale
Flowers: Cindy Williams
Photographer: Brooke Crews
Secondary Photographer: Julie Harrison
Videographer: Eric Bradbury
Makeup Artist: Justice Mitchell
Hairdresser: Leanne Willingham
Rehearsal Dinner Caterer: Kelly Moore and Hayden Moore
Music / DJ: Amado Ortiz
Bride/Groom Cakes: Laura Worthington
Bridal Gown: Davids Bridals
Bridesmaids Dresses: Davids Bridals 
Groom and Groomsmen Dress Wear: CD Cellar