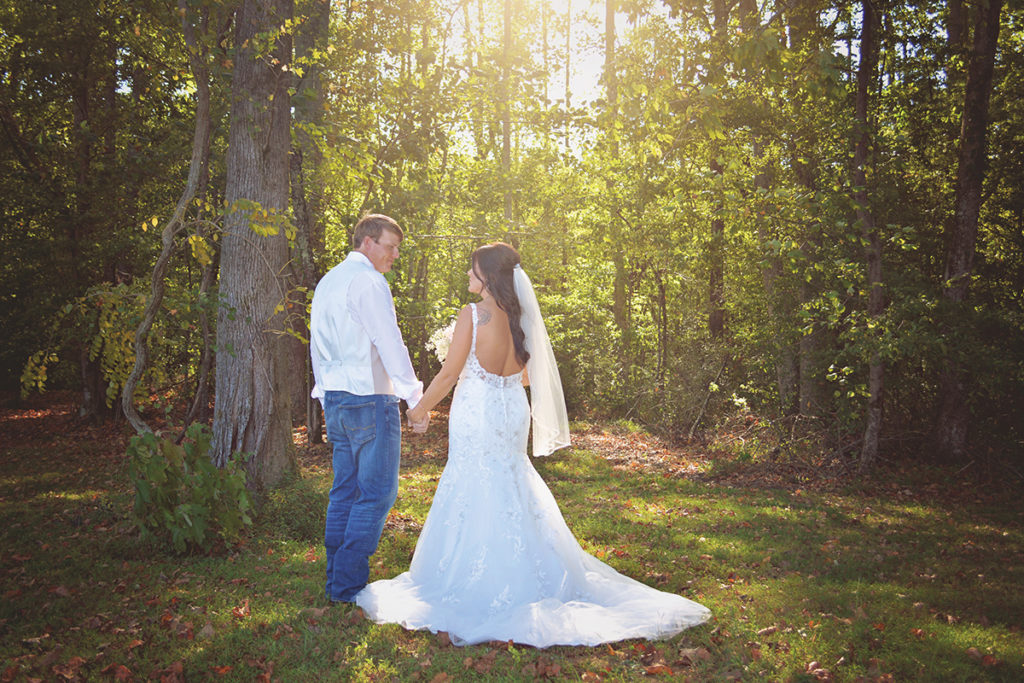 We met at 17 years of age, just 2 kids in high school. We managed to make it through so many ups and downs that only those close to us know about and we came out better than we could have hoped for.
Chris managed to surprise me on a Sunday afternoon in October 2018. We were at his parents lake house for the weekend, he asked to take our son and myself on a boat ride (which we have done a million times before). He stopped the boat like we were going for a swim, asked me if I loved him and wanted to spend the rest of our lives together, at sunset on Weiss Lake. Chris got down on one knee and had our son, Karson, on his other knee! I burst into tears and grabbed the ring without even answering him. I finally said "Yes!"
We knew right away we wanted a small but a fun wedding! In the start of 2019, we were planning the wedding. I didn't want it to be stressful, especially on our families. I said from day one this wedding will be simple but sweet and it doesn't have to come at a high price.
September 21, 2019: Our day was beyond perfect. It could not have been a more beautiful day, truly we were blessed! Our little boy was a ring bearer and wore a sign that said "Daddy here comes Our Girl". My wedding would not have been what it was without my mother and my mother in law. Our mothers, my sister, and family did the decorating. The barn was beautiful enough did not need a lot of decorations.
A special moment was the first look; I teared up when he walked out of the barn with the biggest grin I have ever seen. I had butterflies. Chris's aunt, Three Jones was the officiant, along with his uncle Steve Craft. They knew us and had been there since the very beginning of our relationship. We were tickled to have them officiate, which neither of them had done before, and we also managed to keep it a surprise from our family and friends. Another moment that was so special to us was the Unity Ceremony with the sand, we included our sweet boy in this as we became a family of one. It's one of my favorite pictures as well.
The reception was so much fun. The music and DJ were awesome. Everyone danced the night away, even my grandmother. We talked about how our faces hurt from smiling so much!
We left for our honeymoon the next morning as we were gifted a trip to Panama City Beach to stay at The Wyndam Vacation Resort.
Dress: Bridals By CC
Groom and Groomsmen: Bridals By CC
Bridesmaids Dresses: Etsy Ring Bearer and Flower Girl
Outfits: Etsy
Jewelry: Etsy
Cakes: Creative
Cakes and Cookies: Michelle Cothran
Catering: Local Joe's
Wine: High Country Cellars
Photography: More than a Memory
DJ: Ellis Entertainment
Hair: Ashlyn Lane at Glam Salon